This is my easy scone recipe!  Mike and the kids love these. I love going to the Saturday market and getting fresh scones! I love the different flavors and the smell is amazing! They are awesome! However I cannot buy scones premade forever, I must learn to make them myself, after 7ish attempts I have finally perfected the recipe, taste and texture that I like!
Easy Scone Recipe
2 cups of flour
1/3 -1/2 cup of butter
4 tbsp of sugar
1tbsp of cinnamon
1 tbsp baking powder
1 tsp of salt
1/2 cup of sour crème
1/2 cup of canned milk
1 and a half, baking type apples peeled and chopped into flat thin pieces.
Directions
1. Mix all dry ingredients loosely.  Cut up cold butter in long chunks and then cut into the flour and dry ingredients until butter is the size of tiny peas or smaller. Maybe large peas:)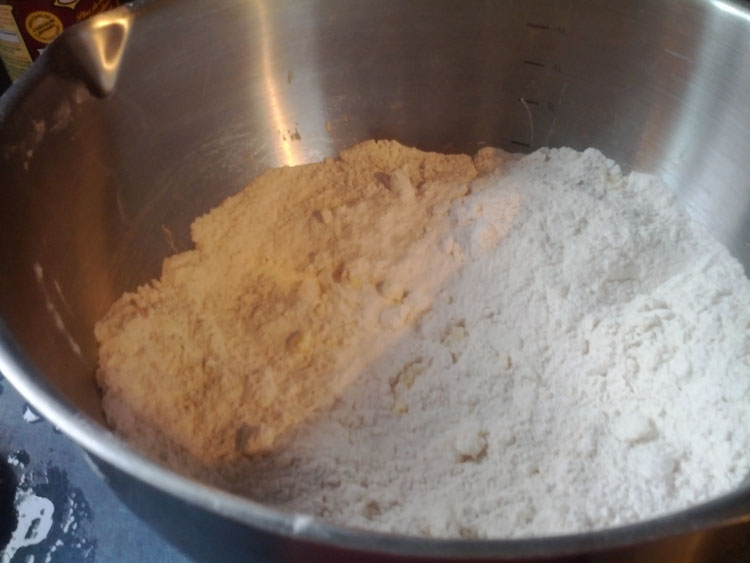 2.Add the rest of the ingredients and mix, I have tired buttermilk in my scones, and this mix, I find this one seems to have a better turn out rate. The dough should be VERY sticky, use your hands as little as possible and get all the pieces stuck together, flour surface of counter and flatten to about an inch and a quarter thick, very thick.
3. Get a bit of sugar, brown or white and with the left over sour creme/milk baste the top of the scones to just wet them, sprinkle sugar on them and cut into 8 wedges.
4. Temperature should be 425 degrees & baked for 20 minutes give or take, look for a bit of browning on the top, note your rack should be in the middle ideally and each scone should be separated to give it room to expand. Baking sheet usually does not need to be greased, however, parchment paper is the best option if you are worried about sticking.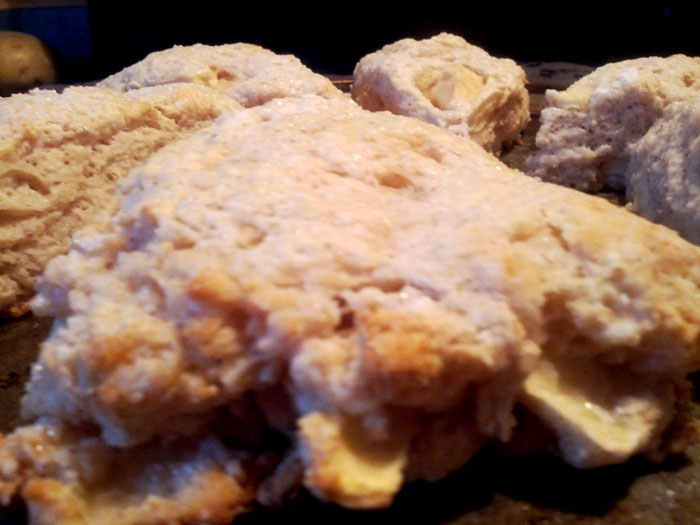 Tips
1. Use the right flour.  You want soft, tender scones and too much protein leads to too much gluten which makes your scones chewy. Pastry flour is a great option.
2.  Keep your ingredients cold. Temperature is critical to buttery, flakey scones. Start with very cold butter—it should chip when you cut it into chunks and your liquids should be ice cold. Consider putting your wet ingredients in the freezer 10 min before baking. Consider chilling your mixing bowl before mixing.
For a quick make in the morning try mixing the dry ingredients and chopping in butter and then freezing it over night and add wet ingredients in the morning, quick and easy!
Why do your ingredients need to be cold? The objective is to keep the butter a solid and not let it melt into a liquid. If your dough is kept cold, it will have little bits of dispersed butter. In the heat of the oven, that butter melts into the dough but leaves pockets and layers in the scones.
Work with the dough quickly to keep it cool.
3. Don't work your dough too much. Mix only until the ingredients come together into a combined mass.
4.  Leave the cut edges of the scones alone. Patting the edges with your fingers melds the edges so that the scone will not rise as nicely or have a flakey, layered structure.
5. Don't over-bake your scones. Over-baking for even a minute or two will dry your scones out. As soon as the edges begin to turn brown, remove them from the oven. Immediately, place the scones on a wire rack—the hot pan will continue to dry the scones.
6. Storage after the scones have cooled is usually best just covered with a cloth, a container sealed will give you soggy scones, and leaving them out too long will cause dry scones. Scones are best eaten same day, so share! 🙂
7. Do not store in a container, in a basket or wrapped in a dish cloth after cooled, best when fresh or later in day, loses quality after that.
Sweet Scones
Lemon Blueberry Scones- instead of cinnamon and apples, add 3/4 cup of blue berries preferably frozen and a bit of lemon zest if available.
Pineapple Coconut Scones- instead of cinnamon and apples add 3/4 cup of canned pineapple tidbits or fresh pineapple small tidbits, no juice.
Espresso Scones- instead of cinnamon and apples add 1 tbsp of instant coffee to the milk to dissolve and add 3/4 cup of chocolate chips.
Non Sweet Scones
Pizza Scones- instead of 4 tbsp of sugar, only one, in place of cinnamon and apples add 1/2 cup chopped pepperoni,1/4 cup shredded cheddar cheese, 1/2 tbsp pizza spice.
Ham and Cheese Scones- instead of 4 tbsp of sugar, only one, in place of cinnamon and apples add 3/4 cup chopped cubed  ham,1/4 cup shredded cheddar cheese.