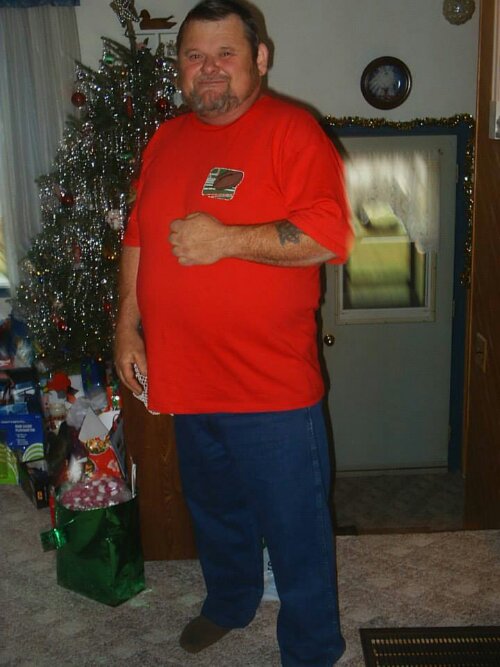 This is my first fathers day without my dads. My dad was awesome. The first few words I would use to describe him were, crazy, funny, loving and kind.  My dad lacked the ability to be serious lol. The last day I saw my dad he did something he's never done. We went up to visit him after Christmas and when I got there, the first thing dad asked me for was a hug. I always get a hug when I leave, but he asked for one as soon as I got there. 🙂
This is part is something I wrote and gave to my dad a few years ago for Christmas…the best present I ever gave him and… myself…because
I'm thankful he knew how I felt.
I love you. Words said often by me. I love you Dad and I love you Eileen, wait, that doesn't sound right, has to be Diddie and Flo. I love you Diddie and Flo. I wrote this to remind you of the great times we have had and to remind you when I don't get to see you often or I don't call, please never think it's because I forgot you, I think about you and Flo everyday. I am not physically with you everyday, but you  are always a part of my heart. Love you Diddie and Flo, Always.
Early Life 
Dad, I remember the good times growing up. I remember the fun I had with you when I was younger, Do you remember scaring us with pudding? You were always carrying on, and I will never forget the night, I think you were home with us and mom was out. I remember being in my pyjamas, and me and James were probably being hellions, as usual hehe. I remember you going in the bathroom to "have a shit" as you would have probably put it, and coming out with toilet paper covered in shit. You chased me and James around the house, us screaming, and you telling us to eat it, or look at it, I can't remember the details haha, but I remember you finally cornering us in the front porch and us freaking because we thought you were going to rub shit on us hehe Then you ate it. It was pudding, I think we both knew then it wasn't shit, and I thought that was soooo hilarious as a child. 🙂 You were always making jokes. I love that about you dad 🙂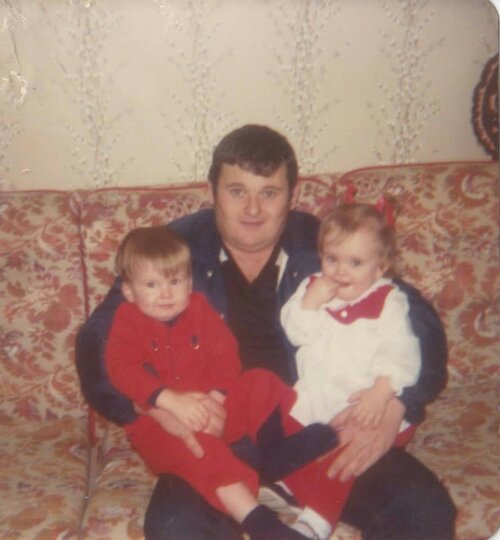 Do you remember the spider? You used to make a finger spider and go up our arms, and if we moved, you "bit"(or pinched) us? I remember all the silly little games you used to play with us. I have not been passing those on to my step kids. Maddy got such a kick out of it when I showed her, now she asks me to do the spider, like we used to ask you.
I remember decorating you! This was so much fun, hehe, I remember so many times growing up, when you would fall asleep on the sofa, we would decorate you. Draw on your belly, put or toys on you, take pictures, I even remember putting earrings on you and doing your hair. You always took it well when you woke up looking like a tattooed drag queen too haha. This picture he is only decorated with my dolls.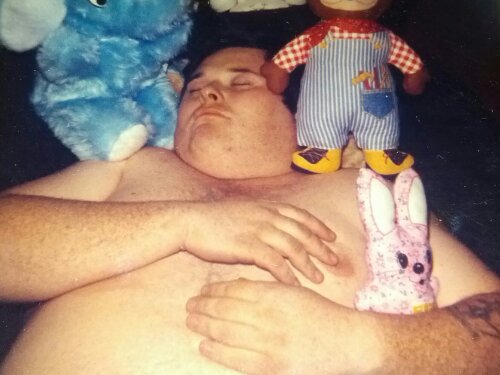 Do you remember eating my playdoh? I do, I remember when I was either having a birthday party, or friends were over and you were joking around with us, as you usually always were. We were making food out of playdoh and we were pretending to eat it, you asked us to make you a hotdog, so one of us did and you actually ate it, I remember laughing so much and freaking and thinking gross. Hehe.
The farting..lol.Lena still remembers and laughs about when you farted on her lap haha. Gross dad! But we all still laugh about it and I loved it, I found it so funny. I love that you are so easy going dad, you and flo. It's something that I take from you and Flo and I cherish that so much. You taught me to laugh at the small stuff, to have fun with nothing but just us.
Dad, do you remember dressing up for Angies boyfriends, or kissing them with no teeth in and in your underwear, I sure do, it was freaking hilarious, mind you if it had been me I would have been mortified haha. Me and James would just grin or help you put your make up on lol. It was ALWAYS fun at your house.
Do you remember going shopping? I bet Flo still does, the things you would do for a laugh, remember the time we were in a line up at Zellers and you farted and yelled, MANDY! And walked away to let me pay for my items. I could have crawled in a hole and died lol, then, now, it was hilarious haha
I didn't always get your humor growing up dad, but now, LOL I love that you were as crazy as you were and that Flo was right there with you. I love the memories.

Now that I am older and I have step kids of my own, and me and Mike drive to get them and drop them off, and I see Mikes side of it, I appreciate all that you both did for us over the years, thank you for driving down to get us for our weekends, thank you Flo for cooking instead of dad(hehe just kidding dad). Thank you flo for cleaning up after us, and I am so thankful Maddy and Riley were not as bad as us, when we were children hehe thank you both for everything that you did growing up, I know I didn`t get to see either of you as much, but the memories made were awesome.
Now that I am older, when we come to visit, thank you for all that you still do, I feel loved when I come to your house, I appreciated that flo cooks for us(or burns hehe), I love that you always make time, I love that your house, no matter what house it is, still feels like home. Thank you for my Birthday, you both made it perfect for me. I love you both so much and I will never forget all you have done for me.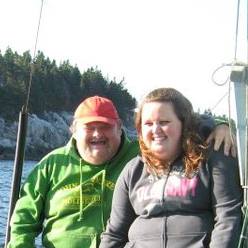 Last picture taken of me and dad. Love him and miss him every day.